Gambia trains drug enforcement officers on human rights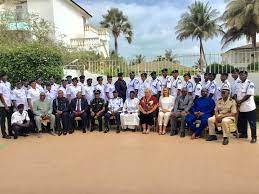 Thirty five (35) Drug Law Enforcement Agency (DLEA) officers are undergoing three days training on human rights in the Gambia.
The training aims to enhance the capacities of officers on their operations in dealing with human rights, which is design to treat suspects and arrestees with due diligence to protect human rights.
Mr. Alagie Bakary Gassama, Director General Drug Law Enforcement Agency the Gambia, said the protection of human rights is a key pillar of the new political dispensation, which cannot be sustain without the exposure of the officers to their obligations as their role is crucial in the criminal justice delivery.
He added that in most cases young people are intercepted, arrested and as a result they are left with no option but to go by the dictates of the law and in doing so, they are bound to ensure that all rights accorded to suspects by law and best practice are safeguarded.
Read More: Gambia burnt down confiscated marijuana worth 8 million dalasi
This according to him include detention in cell`s that are fit for human habitation, avoidance of torture and other forms of degrading and inhuman treatment, observation of the 72 hours detention limit, among others.
Gassama said:
"Additional measures includes the development of staff code of conduct, which establishes professional standards and discipline committee.

"And allows for members of the general public to file complains of human rights violations and unprofessional conducts against our staff when it occur."
He cited limited capacity and resources as their main challenge that hampers the effective implementation of these measures.
In her remarks the Head of Finance Administration of Institution for Human Rights and Development in Africa (IHRDA) Madam Amie Njie said, in collaboration with some authorities, human rights capacity building program for law enforcement officers was conceived in 2015.
She said at the time, priority was given to the police force, due to the available means at that time.
"We later understood the importance of this program to the various arms of the Gambia's public security corps.

"We had to find a way of incorporating few officers from other agencies in that training," said Madam Njie.
Madam Njie added that their records show that from all the eight training workshops so far conducted within the country for security officers, they have reached out to about twenty DLEA officers.
In addition, they made available to some few copies of the human rights manual they had developed for the law enforcement officers, though it seemed largely inclined to reflect the services of the Police Force.
Drug Law Enforcement Agency, the Gambia is the youngest law enforcement establishment in the country. The Agency was established by a parliamentary Act in 2003 and charged with the responsibility to enforce all drug laws, policies and regulations in the Gambia, as well as to collaborate with partners locally and internationally in fighting illicit drug trafficking and abuse.